Sri Krishna Janmastami 2020 | 2 Day celebration on Sunday, Aug 9th and actual Janmastami on Tuesday Aug 11th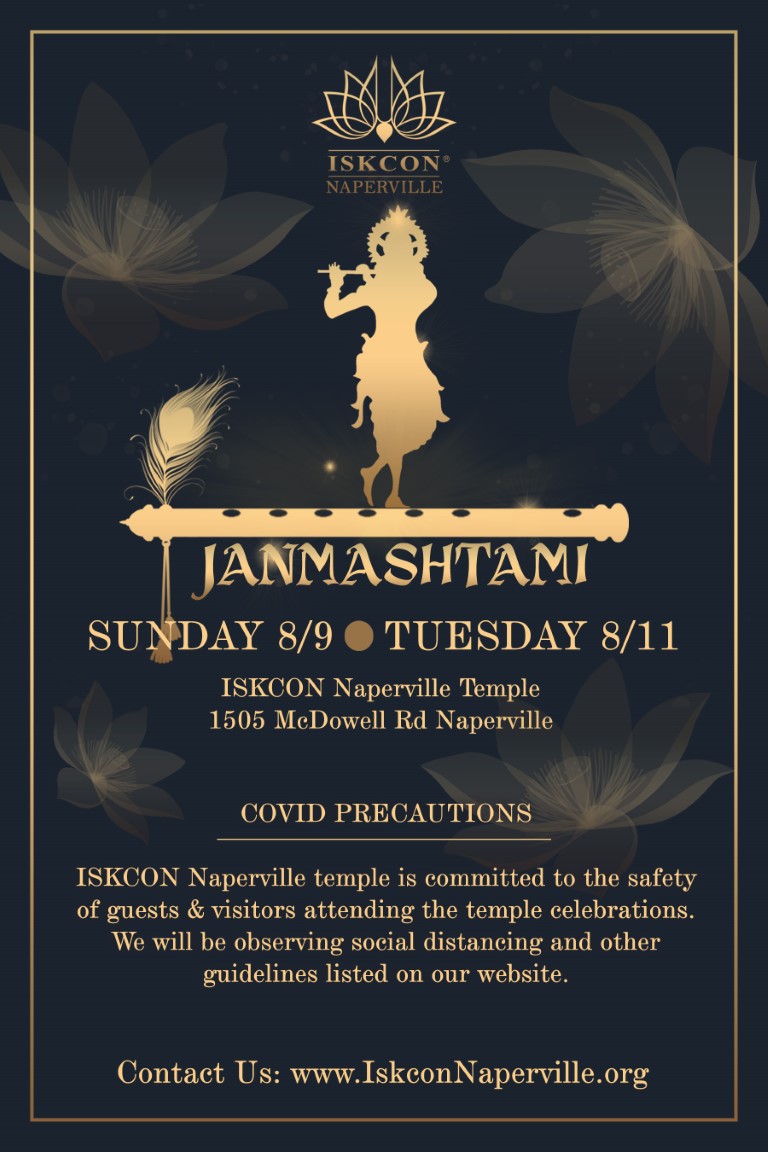 PROGRAM
Sunday, Aug 9th

 
9AM – 12PM: General Darshan in-person through registration only. Register HERE. (Registration is mandatory)
1PM – 3PM: In-person abhishekam for sponsors only (See Sponsorship Opportunities)
5PM – 8PM: Drive-thru darshan (more details coming soon)
Note: Online virtual programs like Kirtan, Sahasra Tulasi puja, Arati, Bhajans and more throughout the day on youtube.com/iskconnaperville and facebook.com/iskconnaperville
Tuesday, Aug 11th (Janmastami)
9AM – 2PM: General Darshan in-person through registration only. Register HERE. (Registration is mandatory)
4.30PM – 6.30PM: In-person abhishekam for sponsors only (See Sponsorship Opportunities)
5PM – 8PM: Drive-thru darshan – CANCELLED NOW
8.30PM – 9.30PM: Festival Lecture
11:45PM: Midnight Arati for sponsors only (Max of 10 persons, See Sponsorship Opportunities)
Note: Online virtual programs like Kirtan, Sahasra Tulasi puja, Arati, Bhajans and more throughout the day on youtube.com/iskconnaperville and facebook.com/iskconnaperville
Janmashtami celebration: 

SPONSORSHIP OPPORTUNITIES
Grand Sponsorship – $2,501
Flower decoration – $1001
Sri Sri Radha Shyamasundara Dresses – $1001
Raj Bhoga – $1001
Maha-Kalash Abhishek – $501
Midnight Arati – $501
All Day Prasadam – $501
Prasadam – $251
Sahasra Tulasi Archana – $101
To sponsor contact:
Saritha Veera: 630-935-5747
Sangeeta Kapoor: 630-862-6383
Shyam Kumar: 630-347-0833
Or sponsor by clicking the below Donate Paypal button:
Parking: Please park on Bond St., Wall St. or as directed by our parking volunteers. Please see the parking areas on the map below marked with "Guest Parking".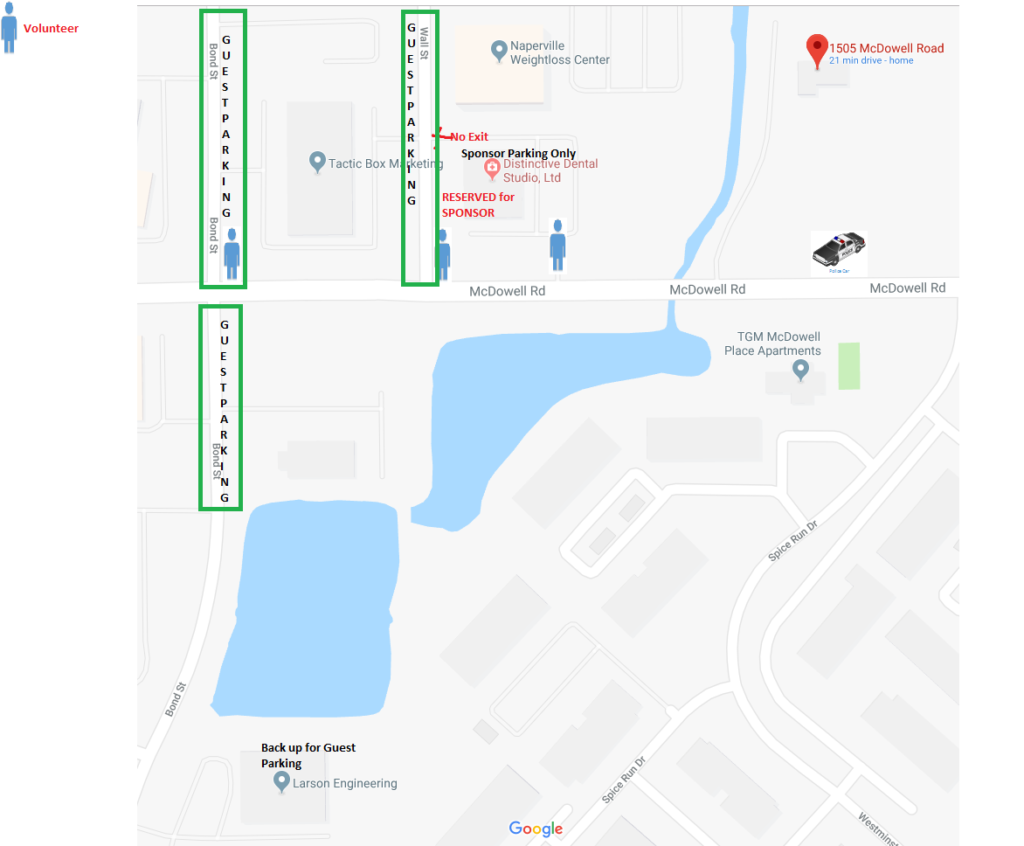 About Janmastami
:
Janmashtami commemorates the earthly appearance of Krishna, who is described in the scriptures as the Supreme Personality of God Himself. One of the biggest religious festivals in the world, it is celebrated by approximately nine hundred and thirty million people around the world–and about two million in the US alone.
But why Janmashtami, one may ask? What's so special about Krishna, as opposed to any other form of God? It's His personable-ness. He reciprocates in unique and personal way with every devotee who offers Him love—He is the most adorable, mischievous son, the most romantic lover, the most compassionate friend. And on Janmashtami, devotees celebrate Krishna in all of these aspects. For just as Krishna reciprocates individually with His relatives and confidantes, he responds to the distinct feelings and desires held most deeply in the heart of every single worshipper.
So remember that whatever way you worship Krishna on Janmashtami, He will reciprocate with you accordingly. It's a meditation that makes for an extremely rewarding devotional experience.