Rama Navami
Celebrating Sunday, April 25th 2021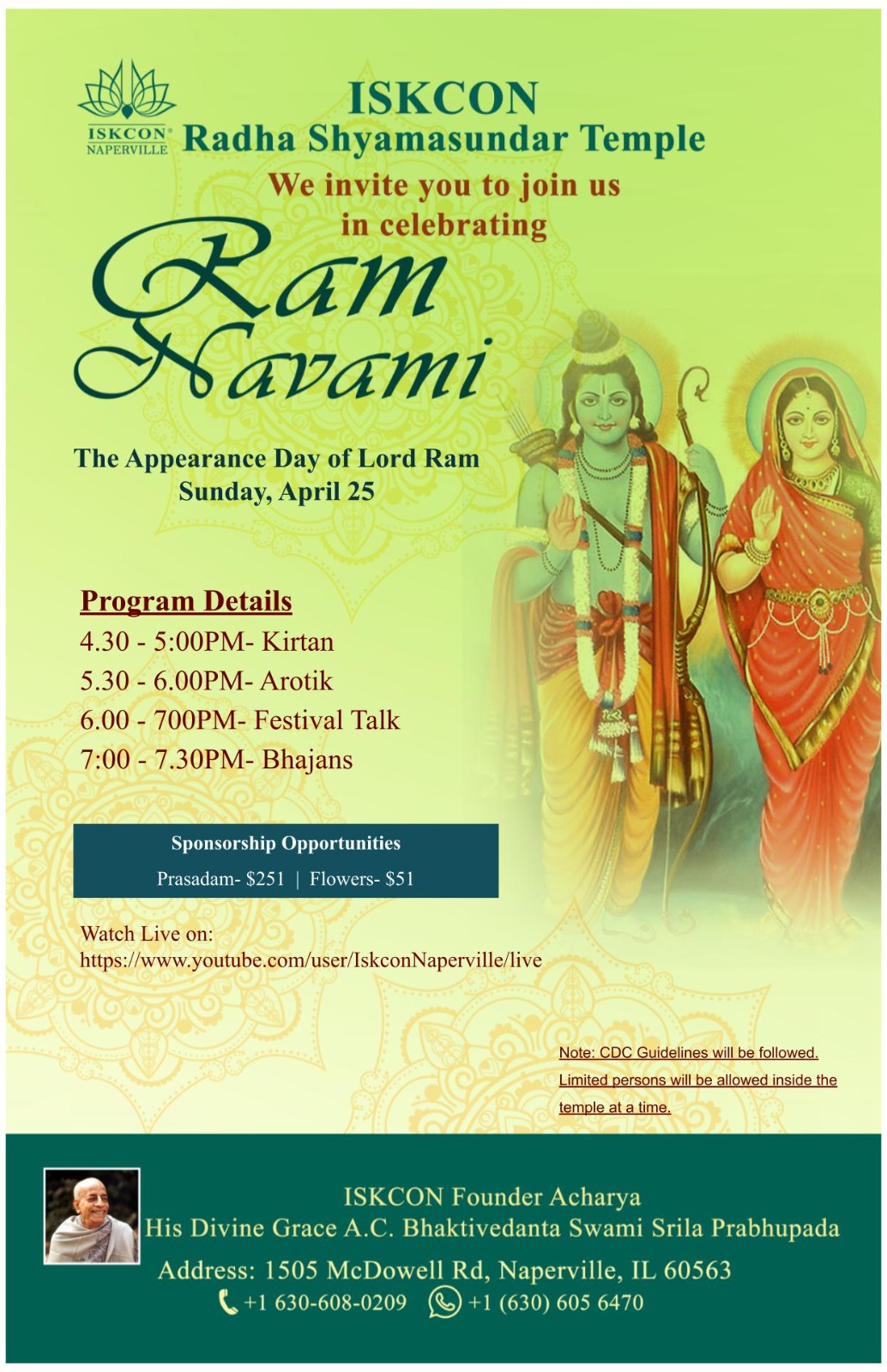 Come celebrate Rama Navami, the appearance day of Lord Ramachandra!!
PROGRAM DETAILS
4.30 pm – 5.00 pm: Kirtan
5.30 pm – 6.00 pm: Arati
6.00 pm – 7.00 pm: Festival Talk
7.00 pm – 7.30 pm: Bhajans
The festival of Ram Navami marks the birthday celebrations of the Supreme Lord Sri Rama. According to the ancient Vedic calendar, it falls in the Spring season. It is considered auspicious to undertake a fast on the day in the name of Rama. Devotees perform elaborate worships and chant the name of Rama. Temples of Rama decorated with flowers, leaves and have special services and bhajan sessions throughout the day. Stories from the Ramayana are read out in joyous public gatherings. Most people fast until midnight.
One significant and popular element of the celebration is the Ramayana parayana, a discourse on the Ramayana, by a devotee of Lord Rama. It usually lasts nine days, beginning on Ugadi and ending on Rama Navami. The main significance behind the celebration of this festival is that the character of Lord Ram signifies an ideal son, an upright husband, a righteous King, and a loving brother and an ideal person, someone who follow the right path against all odds in life. He was also the true embodiment of humanity. So celebration of Ram Navami is a special way to remember all the noble deeds performed by Lord Ram. So in true sense it is not only a festival to enjoy and have fun but also an occasion where lot of ideals can learnt and taught. It is a celebration of goodness and its victory against all evils. Sacred places associated with Rama, like Ayodhya, Ujjain and Rameshwaram, draw tens of thousands of devotees. In Rameshwaram, thousands take a holy bath in the sea and worship lord Rama. Many places in North India host fairs in connection with the festival, culminating in spectacular fireworks on Rama Navami.
Rama means 'bliss' and so Lord Rama provides bliss to all those who remember Him and pray to Him. Therefore let us all remember the activities and instructions of Lord Rama; follow them and achieve happiness.